Hunch to Visit Kim and Chesney Claire
I've always been one to go with the flow… or gut instincts… or maybe a combination of both. Last month I got out of the shower and felt the push to text a friend, Kim, I haven't talked to in weeks. In that same thought, I decided I should go visit her and her daughter in Vegas where they're currently living. This is a friend that I met several years ago that instantly felt like family. I always thought her daughter, Chesney Claire, was a great singer, and I "might" have encouraged them to ditch the college scene and let her pursue music. I realize this isn't a great idea for most people, but these two were different. They had been dealt some rough cards in life, and it was now just the two of them. They were gypsy souls, and I just couldn't help but wonder why they were trying to fit in with society when every part of their being was screaming "we're not like that." They decided to give the music business their all, and they wasted no time in getting started. While they chose a different way of doing things than I would have, I have complete respect for their drive and passion to make their dreams happen. They tried everything and everywhere – Branson, Nashville, and now Las Vegas. They worked with mangers, producers, recording studios, songwriters – everything they could get themselves into, and it's obviously paying off (even if it's not as fast as they hoped). You don't simply work that hard and get nothing in return.
David Davidian and Alice Cooper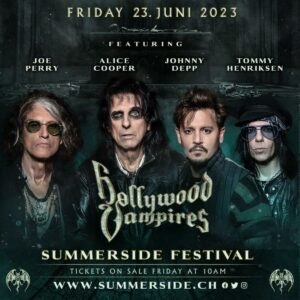 Anyway – I sent her a text and was thinking maybe November would be a good time to hop on a plane. Within an hour we were making plans to visit on October 8th when her manager, David Davidian, would be in town. David is Alice Cooper and Hollywood Vampire's tour manager and has worked with some really great artists. I looked him up, watched an interview on YouTube, and he seemed like a genuinely good human. I felt that intuitive pull to go, so I told her I'd do my best to make it happen. The problem was that I had several thousand dollars in outstanding invoices from my customers and my bank account wasn't looking like it was going to support a Vegas trip at that time. To make it worse, a usual round trip would be about $300, but this trip had the worst timing for decent airline costs. It was going to be about $950. Everything pointed to this not being a very logical decision, but I knew I had to go anyway. I believe in walking through doors that have been opened for me. I also believe that good friends are rare these days, and I just needed to have some hang time with these folks.
Plane Tickets and Southern Airways Express – HRO, DFW, LAS, and MEM
I set out a plan to get as much work done as possible and pull in some extra work to cover the trip. Day by day customer invoices started getting paid. I pulled in a few extra gigs from Upwork (my go-to these days) and paid the bills that needed to be paid before I could buy plane tickets. Three days before I was supposed to leave, I finally had things aligned where I could buy the tickets. I'm pretty savvy with getting great deals, but I had spent hours on Justfly.com – my favorite – and I wasn't doing too hot. The deal is, I live in a small town of 13,000 people. Places like this don't have commercial airlines – except ours does (kind of). About 7 minutes from my house is the Boone County Regional Airport who has partnered with Southern Airways Express. You wouldn't think a 9-seater airplane would be a big deal, but it is. Why? This airplane makes only two flights out of our airport – Memphis or Dallas.  Instead of driving 6 hours to Dallas or 5 hours to Memphis, I can hop on this cool little Cessna for $89 to $119 and be at either place in less than 2 hours. As most people know, you can get just about anywhere in the world from the Dallas International Airport (DFW). Memphis isn't a bad option either, but DFW is usually cheaper. Because our airport is small, they only run two flights each day – one at around 6:45am and the other around 4pm. After spending several hours trying to get the best deals, I finally found a way to make all flight times work out by booking 4 separate one way flights. The total cost was just $510. I booked terrible flight times to save money and then saved another $150 by not bringing a carry-on – meaning I rolled all my clothes into a ball, brought only the shoes I was wearing, and shoved everything into one backpack. Yes, most airlines include a carry-on for free, but not Frontier or Allegiant… both on which I would be flying. Normally, I would book everything on Justfly.com, but this time I had to book each flight directly on that airline's website to save as much as possible. Here's what my trip looked like in order to make it all happen:
10/6 HRO (Harrison, AR) to DFW (Dallas, TX) on Southern Airways Express

Depart 4pm CST, Arrive 6:10pm
Booked directly on iflysouthern.com (the only option for this airline)

10/6 DFW (Dallas, TX) to LAS (Las Vegas, NV) on Frontier Airlines

Depart 10:49pm CST, Arrive 11:58pm PST
Saved $20 by booking on flyfrontier.com (didn't join the member program, but I probably will in the near future – looks like a great deal)
Paid $13 for travel insurance since this was such a late flight. I didn't want to be stuck holding the bill late at night in the event of a delay if I needed to find a hotel.

10/9 LAS (Las Vegas, NV) to MEM (Memphis, TN) on Allegiant Airlines

I would have preferred flying into Dallas rather than Memphis, but the Sunday flight from Dallas to Harrison was already full.
Depart 6:05am PST, Arrive 11:20am CST
Booked directly on allegiantair.com because JustFly.com was showing the flight full and Allegiant showed 2 seats left.

10/9 MEM (Memphis, TN) to HRO (Harrison, AR) on Southern Airways Express

Depart 1:55pm CST, Arrive 3:20pm CST
Booked directly on iflysouthern.com (the only option for this airline)
I began my trip in a 9-seater Cessna heading out of Harrison, AR. These little planes are so much fun and always remind me of flying with my dad when I was younger. Dad had a 1957 Cessna 172 4-seater and I always loved flying (ok ok… I loved sleeping while he flew it). You can't beat flying in this little plane and landing in Dallas at a small partner terminal to DFW. It takes off as smooth as a hot air balloon while you watch the action right behind the pilots. I keep forgetting to get his name, but there is a man that shuttles you to the main airport when you arrive in Dallas. He's always so nice and remembers most of his regulars. DFW is a classy airport that's easy to navigate, and I always schedule enough time to grab some food here before leaving for the next flight. I quickly found my way to Panda Express, and the orange chicken was excellent as always. After a couple hours, I was on Frontier Airlines headed to Las Vegas.
Vegas, Baby!
I arrived in Vegas a bit early about 11:30pm PST on Thursday and got to hug Kim and Chesney Claire, for the first time in person in several years. I instantly knew I was right where I was supposed to be. We got in their car, headed to their house right off the strip in Vegas. I was greeted by their sweet little black and white Boston Terrier, Baby, and did my duties to sufficiently provide the required amount of belly rubs and kisses. Kim and Chesney are Louisiana Cajun folk, and I expected nothing less when she offered me some of her shrimp pasta at midnight. I found my way to the birthday cake Vodka as well and we called it a night not long afterwards.
Kim was up and cooking breakfast by 6:30am. This lady doesn't let anyone go hungry no matter what time of day! We decided that sight-seeing would be on the day's agenda since we had Saturday plans to meet with her manager. We drove down the strip where I decided that Vegas itself as a whole is on drugs. This town makes no sense whatsoever and always feels like you're in the middle of someone's 24-hour drinking binge. I saw the Statue of Liberty on the left, the Eiffel Tower on the right, a Taco Bell that was lit up like a casino – things that just didn't make sense for a dessert in Nevada. I walked by ladies in full rhinestones and feathers, women in wedding dresses, men in women's clothes, people in sweatshirts and pants, people in bikini tops and shorts, and happy kids on vacation with their parents walking right next to shady looking people talking to the hallucinations from their latest high. It was a mix of culture, lifestyles, and scenery that I doubt would be together at the same place and time anywhere else in the world.  We intended to do a few more things, but hunger prevailed.
Mexican food is always a "yes", and Kim brought me to the famous Lindo Michoacan. I didn't realize it at the time, but this place is legendary. When it opened in 1990, it had 12 tables. Now it can seat 300 people and has two more locations as well! The main location where we dined had been closed for repairs for about a year and had just re-opened in July. Other than not having cheese dip or sweet tea (common outside of the south – lame), Lindo didn't disappoint! I had very authentic tasting flautas, and the chips and salsa were incredible.
We then headed to a crowded area where Kim handed her keys to a valet parking guy. We visited a fancy pants mall with a name my southern accent wouldn't allow me to pronounce correctly (the Bellagio). I saw the biggest live pumpkin I've ever seen on display and people taking pictures in this huge walk-through garden. It reminded me a bit of a scaled down version of the Opryland Hotel in Nashville. Next, we walked into Tiffany's, and I fell in love with a diamond T-ring. We continued to walk around until we had seen it all and then decided to head to the Hoover Dam.
Hoover Dam and Lake Mead
Kim insisted that I couldn't come to Vegas and not see the dam. The water was insanely low, so much that there was a very visible water line where the lake normally reached. My daughter called me to make sure I hadn't decided to jump off the dam as her Life 360 app seemed to show that I was directly in the middle of the water. Lol. After making our way through this historic landmark (and finding a $10 bill on the ground), we decided to head to Lake Mead so I could touch the water. While Vegas wasn't on my bucket list of "21 beaches to touch", I never pass up an opportunity to touch any body of water.
Seeing the mountains wrapped around a bright blue lake in the middle of a desert was serene, gorgeous, and just as confusing as the rest of Vegas. I guess a lake was the last thing I expected in this town. The water was so low that the road just stopped, and we had to drive on what was previously the lakebed. We parked and headed to the dock. The marina was full of all types of watercraft including jet skis, fishing boats, fancy wakeboarding boats, and house boats. Lots of boaters were on the water including a sailboat which looked as though it had been perfectly painted on this surreal canvas. We immediately noticed friendly ducks with zero fear of humans and fish swimming up knowing the typical human routine was to feed them. As we continued down the pier, the fish kept getting more and more dense until it was almost nightmarish. I have never seen so many fish in one location. The bass, carp, and catfish swarmed the entire dock so much that if you were to jump in, you'd probably float on top of them. As we walked back and forth the schools of fish followed us. I couldn't even find a place to touch the water without just touching hundreds of open fish mouths. I finally ran to the end of the pier and touched the water before they could swim to me. Within about 3 seconds of touching it, they had found me, and I was done with it! Note to self: Lake Mead is beautiful… and I will NEVER get in it… EVER. The heat was bearing down on us, and we decided it was time to head back to the house. The heat in Vegas is different. I'm used to high humidity. Chesney said it best when she said it felt like standing under a hair dryer. It seemed to just constantly blow on us even without a breeze.
We headed back to the house and opted for a day to just relax and do nothing more. Kim and I listened to some of Chesney's new songs while she took a nap, and then we ate some shrimp and tater tots while playing Cards Against Humanity. It was a much-needed easy day, and we went to bed ready for Saturday's adventures.
Saturday was the day we got to meet Chesney's manager, David Davidian. But before that we had to examine the pot roast Kim had accidentally charbroiled overnight. We had a big laugh about it, but Kim salvaged the good meat and made an amazing stew with potatoes, gravy, and vegetables. We intended to eat it later, but we just couldn't wait. I've decided there's nothing Kim cooks that isn't delicious. We also took Baby, the dog, on a walk around her apartment complex. Check out the video to see Kim's "leash" she's been using. I love this lady for so many reasons and walking her dog with an out of commission USB cord is just one of them.
Alice Cooper, David Davidian, and Ace Frehley
We pulled up to David's hotel around noon and drove past Alice Cooper's tour busses. David was all business but a very nice guy. He knows his stuff, and he doesn't sugar coat it. He was juggling guest lists, payments, bus drivers, band members, and everything he could while also taking time to give Chesney some advice and ask about her current affairs. He also brought us some Alice Cooper t-shirts along with concert tickets that night and after party passes. We met Alice and his wife while walking out of the hotel room. I've been told nothing but good things about him, and though our meeting was quick, you could tell he's a great guy. He had no attitude or ego and was very friendly. His wife was very cordial as well and it was nice to shake their hands. Not everyone can say they shook Alice Cooper's hand, and it was a neat moment. I'm not a person that gets star struck by artists, but I do enjoy meeting celebrities to see which ones are decent humans and which ones possess the "holier than thou" attitude. I have complete respect for all artists and celebrities, but there is something special about humble people that are constantly in the spotlight. I have a knack for picking out genuine people I tend to gravitate to them. I can say based on a very quick meeting, Alice and his wife fit the bill for the definition of good people.
My Kid Surprised Me!!!
I came back to home to a very sweet surprise – my daughter, Kaylie, drove 5 hours from her current home in Utah to come see me! Probably the highlight of my trip was getting to sing upstairs in their music room with Chesney and Kaylie while Kim DJ'd our karaoke tracks. Sometimes it's just the little things that mean the most! We all decided our trip was going by way too quickly, so I made my best effort to change flight times and stay one more day. No matter what I tried, no flight combinations were available for a Monday flight home that would connect everything on time. We were a little bummed that our time was almost up, but I knew this get together would be happening again very soon.
After our karaoke house party, it was time to head to the Ace Frehley and Alice Cooper concert. Our tickets were on the floor, the volume level was insanely loud (but it's rock music, right?), and it was quite an experience seeing legends like these two in person. Afterwards, we made a quick run to grab some dinner and head back to the house. I had a 6am flight to catch which meant we had to be up by 3:30am to be there by 4:30am. A few hours of sleep was all we were going to get, but it was worth it. The three of them drove me to the airport, and I sent them back home to finish their sleep. Kaylie had a 5-hour drive back home, and Kim promised me she'd make sure she was well rested before she let her leave. These are the kinds of people that everyone needs in their life. They aren't just there for a good time – they're family and they watch out for your family like their own.
Headed back Home
The flight from Vegas to Memphis was about 3 hours, which gave me enough time to take an hour nap and watch the movie, "Minamata" on my phone. I'd been wanting to see it for a while, and it didn't let me down. I highly recommend it to anyone that hasn't seen it or maybe doesn't know about the Minamata scandal. Johnny Depp is outstanding as always, and the message is painstakingly obvious.
I'd never flown into Memphis, but it wasn't the experience I'm used to at Dallas. I will say the airport is small but futuristic and clean. I loved the look and feel of it… until no one knew how to assist me. When you land in Dallas for a connecting flight to Southern Airways Express, someone calls you upon arrival and asks if you're ready for your shuttle. It feels a bit like 1950 not having to deal with plane tickets, apps, and everything I'm used to on a regular airline, but it's quirky, nostalgic, and I find it adorable. However, arriving in Memphis, no one called me. I wandered around and grabbed a sandwich and still no call. I asked a few security agents if they knew where I needed to go to connect to the smaller terminal. No one knew. I called Southern Airways who told me I needed to be at the smaller terminal. Yes, thank you – I knew that. I asked them if they could get a shuttle for me, and they said they'd have one call me. I assumed that was the end of things and things would proceed like they did in Dallas. This was not the case, though, Twenty minutes passed, and I hadn't received a call. I called again and they said they'd just connect me to the terminal so I could get the shuttle myself. The lady at the terminal was nice and told me where to go to wait for my shuttle – then said she was sorry, but she was just told there is no shuttle running today. WHAT?? How do I get to the terminal then? She said I could catch an Uber. So I hailed an Uber, walked about a mile through multiple parking garages, got on an elevator, and reached my driver that cost me $11 for a 3 minute drive. While the experience wasn't the worst by any means, I will always try to make sure my flights route to DFW instead of MEM whenever possible. I just find it to be an all-around better experience for me. Once at the Signature Flight Support terminal, I only had about a 45-minute wait before boarding the small plane that would get me home. There were a whopping 4 of us flying back to Harrison if I remember correctly, so we pretty much sat where we wanted. The first hour of the flight was smooth as usual – the second half felt a little more like a child-sized roller coaster. We had just enough action to keep it exciting without being terrified. All jokes aside, these pilots are wonderful, and it's always fun on the small airplanes. I arrived home Sunday at 3:30pm, 10 hours after waking up in Vegas (allowing for the 2-hour time change). Mom, Dad, and my youngest son were there to pick me up, and we grabbed a late lunch before they dropped me off at home. I found myself already ready to go back while also being glad to be home.
Travel is always such an interesting concept to me. I believe that "home" is 45% your own house, 45% the house you grew up in, and 10% of everywhere you've ever been. A piece of me will always feel at home in Vegas now – with good people, Cajun food, dogs on USB leashes, and more connections in the music industry.