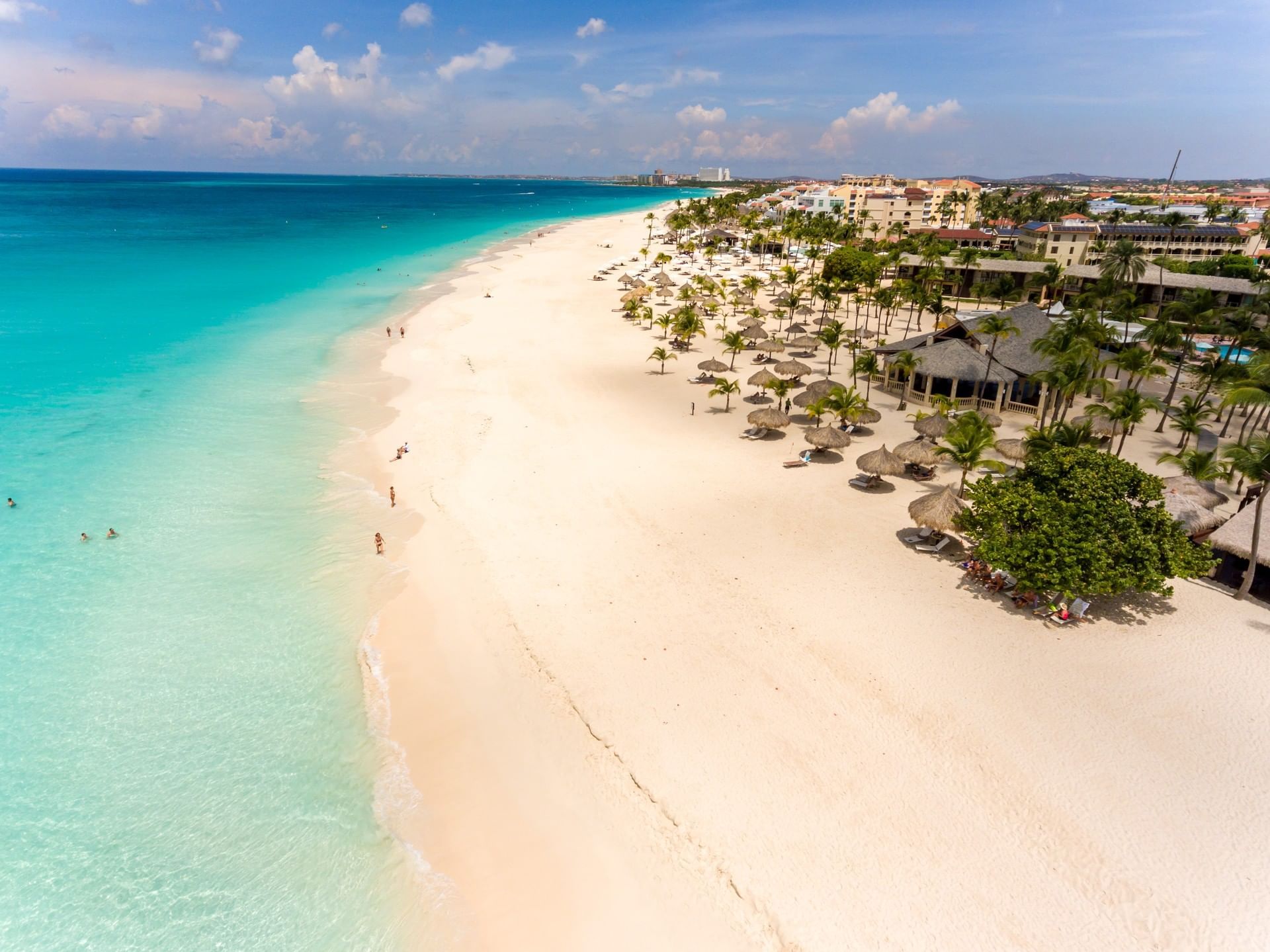 You've pictured it in your mind a thousand times – the little dreamy hut with a grass roof shading the warm white sand below it, your tan beach chair strategically placed underneath a palm tree with just enough shade to keep your strawberry margarita from melting too quickly, and your oversized straw hat that's been hanging out in your closet until the day you envisioned you'd be right there staring at the waves crashing in harmony with the seagulls fly over just to check in on you now and then.
Manchebo Beach All Inclusive Resort
You've heard of Aruba, no doubt. You probably have a cliché image of beachgoers in your mind with postcard views of the ocean and high-rise condos just begging for your debit card number. What you might not have heard of yet is Manchebo Beach Resort. A stark contrast to the spring breaker's paradise, this is a peaceful Caribbean all inclusive beach resort beaming with such confidence as to not even need your attention. You won't find multitudes of ads begging for your presence, nor will you find bargain deals on every typical third-party booking engine. What you will find here is an atmosphere of elegance, tranquility, and sheer bliss that will have you wondering how you never knew it existed… waters so blue you can't tell where they end and where the sky begins if it weren't for the occasional marshmallow cloud that decorates the horizon. These are the little gems travel agents keep to themselves to distinguish their expertise against a search engine.
An All Inclusive Beach Resort for Less than $2500?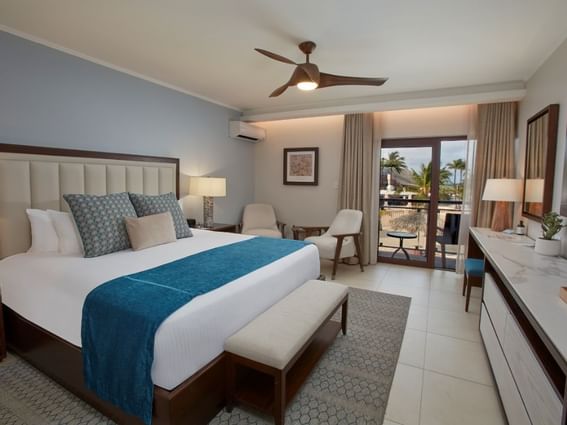 Yes! Booking a three-night all-inclusive stay in this incredibly quiet masterpiece will only cost you less than $2500 (tax included) and land you in a gorgeous minimalistic/modern style room with a view of the ocean peeking through a maze of palm trees and bamboo umbrellas. If that alone doesn't have you wondering where you last sat down your wallet, this list of amenities should have you ransacking the house shortly:
A la carte breakfast at Ike's Bistro
A la carte lunch at Pega-Pega Beach Bar & Grill
A la carte dinner at the Chophouse or poolside Ike's Bistro overlooking Eagle Beach
A la carte dinner at Omakase Japanese Sushi Bar located inside The Chophouse
Premium open bar including cocktails, beers, liquors, liqueurs, smoothies and wines
Restaurant and bar service charge included
Breakfast and Pilates at Manchebo Beach
Let's start with a poolside breakfast at Ike's Bistro. The physical location itself is mesmerizing. There's a mysterious mix of a rustic romantic inspired environment intertwined with a highly refined vibe. Columns made from coral stand out against furniture and fixtures uniquely designed from bamboo and driftwood. The Mediterranean's finest ingredients are creatively served in dishes that include coconut fresh toast, goat cheese omelets, and locally made papaya jam. Don't get me wrong, we love Waffle House as much as the next, but for these 3 days you're going to love breakfast more than you ever imagined possible.
After breakfast, maybe you want to enjoy one of many complimentary open-air Yoga or Pilates classes while you wait for dolphins to enhance your already breathtaking view of the ocean. If these haven't piqued your senses already, maybe the spa is more your fancy. The Spa del Sol offers hot stone and shiatsu massage therapy, a steam room, and whirlpool, along with body scrubs, wraps, manicures and pedicures.
Pega-Pega Beach Bar & Grill for Lunch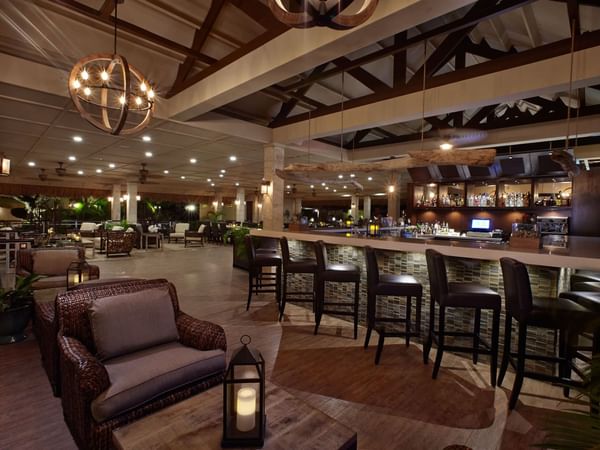 After such an obviously exhausting day of enjoying nothing but peace, you might have worked up an appetite for lunch by now. Vacation calories don't count, and even if they did you wouldn't pass up another included treat – lunch at the Pega-Pega Beach Bar & Grill. Shoes aren't required here so your newly manicured toes are free to dangle in the sand as you enjoy fresh fruit smoothies, fish tacos, paninis, burgers, and organic salads that even Gordan Ramsey can't insult. You might even find that the chef has tweaked the day's menu to accommodate a surprise local fisherman's morning catch. If your morning Daiquiri is all but a faded memory by now, you'll have plenty of choices here for local brews and brightly colored tropical cocktails. You'll feel like reigning royalty over your own private café as you stake an orange flag in the sand, letting your waiter that you're ready for another round. Honestly, you might want to ask your favorite new travel agent if you can bring one of these orange flags home – the concept is brilliant to say the least.
There's a fitness studio on site for you overly zealous health nuts. We secretly want to be you, but instead you'll probably have a nice view of the rest of us nestled snuggly back in our chaise lounge (possibly a bit more snug at this point). While drifting off for a little Caribbean siesta, you might already be weighing your next included option – dinner at The Chophouse or the Omakase Japanese Sushi Bar also in the same location. The Chophouse offers an international menu including restaurant favorites like Grilled Lamb Chops, Pan-Seared Filet Mignon and Sesame-Crusted Ahi-Tuna. If you're craving Sushi, Omakase Japanese Sushi Bar is your place to be. Omakase translates to "let the chef decide" and the innovative four-course meals never fail to delight visitors. Not having to decide might even be the best part of dinner!
All Inclusive as in Welcome Mojito's on the Beach?
As if this all inclusive resort didn't already have you hitting auto-fill on that reservation system, ask your travel agent about the complimentary "welcome Mojito" you'll receive just for being a guest here. Wifi is plentiful here (though we might judge you for spending your time online while you're in the middle of this fairytale scene) and you won't have to worry about a thing with room service taking care of you during your stay.
Manchebo Beach Resort on Eagle Beach is a side of Aruba Google forgot to tell you about while you were looking at other popular destinations. Lucky for you, your travel agent isn't a search engine and has valuable insider knowledge on necessities – like coconut toast and welcome Mojitos. You'll likely find that just one visit isn't enough, and you'll see yourself returning to have another chat with your favorite bartender. Trip Advisor recently gave this beach one of the "Top Ten Beaches in the World"… and there are 72 rooms just waiting for your suitcase to hit the floor.